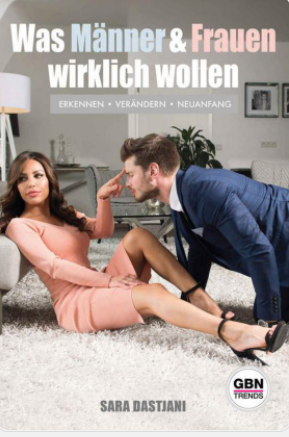 Review of the advisor by Sara Dastjani: "What men & women really want"
What do men and women really want when it comes to "data"? How do you start a relationship, and how do you deal with love or separation? These are questions that probably all of us have already failed. Quite simply because empathy and perhaps emotions are often neglected in favor of expectations.
The author and German US blogger Sara Dastjani gives us many answers to these recurring uncertainties in her guide, and she also has a lot to say about "being happy", which is our goal in life.
Dastjani has a very fine power of observation, and so she shows readers different types of women and men. Indeed, some "patterns" seem very familiar to us. Most know either a woman or a man like those described in Sara's entertaining "typology", or a mixture of different personalities. You may even be able to recognize yourself in one or the other description.
Relationship types are also described as we can see them in our circle of friends or relatives, or in which we may live ourselves. There are well-trodden paths everywhere, and as long as nobody approaches or dares anything new, a great many people can be found in such descriptions. There's nothing wrong with that, but does it really make us happy?
It all starts with getting to know each other
Full of expectations – some of which are our own, but some of which have been adopted – we make serious mistakes when we are dating. It is not about presenting what the other supposedly wants to see. That would be a bad start.
Harmonious relationships are not established through a snap of the fingers, a successful make-up or a chic suit. There is always a lot more involved. Sara Dastjani has a number of "rules" ready for the reader that can prove to be very helpful. From getting to know each other through to the first date – or for the familiar situation in which "nothing works anymore".
Each of us should keep a very close eye on possible situations. Did you let yourself be lacking in the necessary appreciation? Was it really necessary to always be right? Have certain signals from the "ex" remained undetected?
Sara Dastjani's book is certainly not the only guide on this subject, but this clever, humorous book should not be missed!
Our reading recommendation: "What men & women really want: Recognize. Change. New beginning " was available to us as a 200-page paperback. Sara Dastjani's guide was published by GBN Trends in mid-November 2019 (ISBN 978-3948401016). As an e-book or Kindle, the useful book for getting to know each other, dating and partnership is available from online bookshops.
© "Getting to know a dating partnership: ways to start over". A review by Izabel Comati (Pressenet), 01/2020. Many thanks to Sara Dastjani and GBN Trends for the review copy .